Class was great on Saturday. It was our first installment of fiber prep. In this class we learned to skirt and wash fleece. Then it was off to the prep stations to work with combs, hackles, drum carders, hand carders, flicker and picker.
The image of the large birds nest is a sample of the combed fiber which we transferred to the hackle and blended together. It is a mix of natural brown alpaca, lilac colored wool and mohair, mint colored wool, mohair and targhee. It is a dream to spin. We then took all the left overs from the combs and hackle and put them by the drum carder. I can't bare to waste a thing.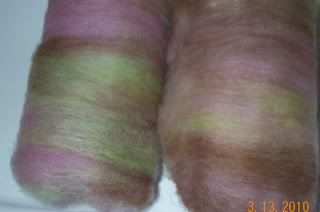 The batts came out beautifully I really like how they blended together with the colors we used. Next class will go more in depth with the fiber prep tools. They will learn how to blend the different fibers together then we can dye them for our next class. I only wish we had more time to work with the fibers, but some of my students we have a whole year in fiber. We are working on getting a Art Apprenticeship Grant and I will teach them how to work with a bunch of different fibers, dye with plants from our area and spin up all those fibery goodness. Until next time.